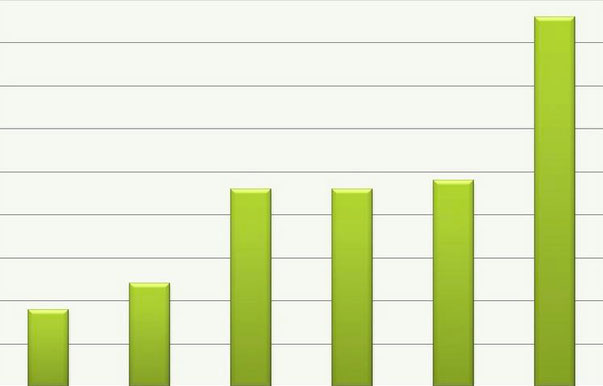 A survey on Lean Product Development reveals that German companies haven't fully implemented this methodology within their organisation.
We've recently conducted a survey as part of a presentation on digital transformation that we carried out in May. This article is meant to present the findings of the survey and to shed light on the importance of Lean and Agile methodologies for different IT-related companies.     
The survey respondents included 15 companies as follows:
5 (33%)

 IT/ Software companies that provide software development services for other firms
1 (6.7%) Pure digital player that uses its software development services for its own products
6 (40%) 

Have different products and services among which there are also some digital ones
1 (6.7%) 

Doesn't have pure digital products. IT supports the company's internal processes. E.g: online shopping, document management
1 (6.7%) 

Provides consulting services with very little development involved
1 (6.7%) 

which falls under the "Other" category
Taking into account the company size, our respondents fell under the following categories:
5 with more than 100 employees
5 with up to 30 employees
1 with up to 10 employees
When asked whether their clients would like to work following an Agile process model, 20% (3 companies) replied that this is oftentimes the case, while for another 20% this happened in some isolated cases. Interestingly enough, none of the polled companies' clients disagreed with working following Agile processes.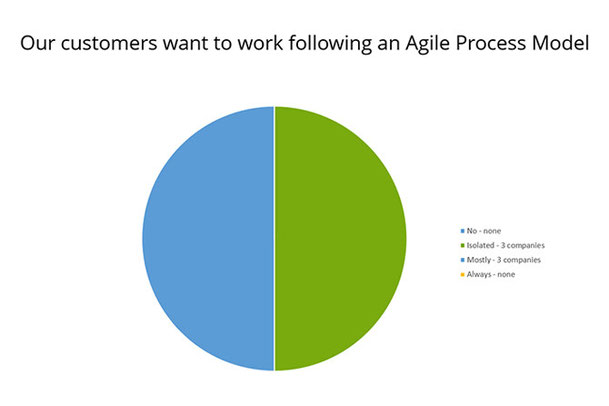 Furthermore, only 3 of the surveyed companies have worked with an MVP as compared to 12 which have never tried this approach.
The survey has also revealed that, in what concerns Agile Software Development, only 1 company is an exclusive user of this methodology, 3 companies are frequent users, 6 companies only occasionally use it while 3 companies only know of it and 2 are totally unfamiliar with the approach.
No Exclusive Users of Lean Product Development
Moreover, when asked if they know or use Lean Product Development, none of the survey respondents identified his company as being an exclusive user of this methodology, only one respondent is a frequent user while 7 have only heard of it and 6 are totally unfamiliar with the approach.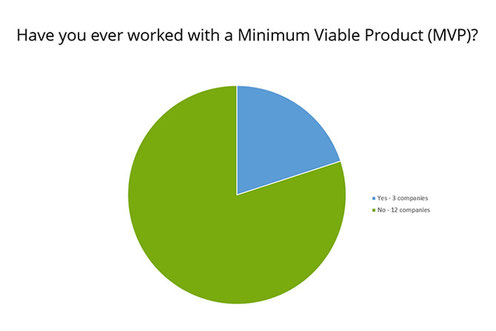 Additionally, we've compared our respondents expectation in what concerns the importance of having a clear digital strategy for their company with the actual extent to which this strategy is rooted in daily business. Interestingly enough, 7 companies manifested the highest level of expectation meaning that it's very important for them to have a clear digital strategy for their company. However, out of the 7, only 3 have actually implemented this strategy in daily business.
Similarly, out of 14 companies claiming that it's important to focus on the satisfaction of digital customers, only 8 have actually rooted this strategy in their daily business.
In what concerns Agile Product Development, the claim and the reality are similar, in the sense that for 3 companies it is important to base their work on a customer centric Agile Product Development and all of the 3 have managed to make this strategy part of their daily business.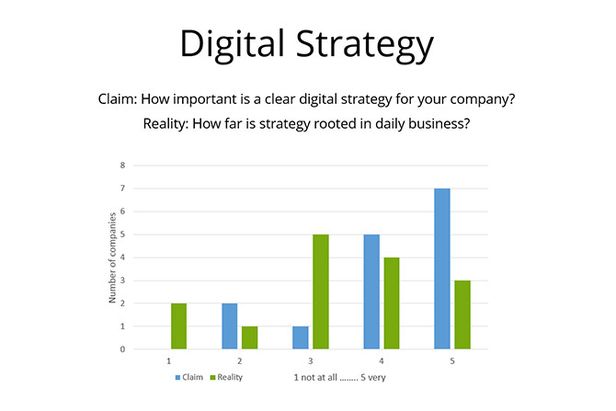 Employee Involvement is a Key Goal
Furthermore, the survey has revealed that, in what concerns employee engagement, for 7 respondents, employee involvement is a key goal of their company. However, only 5 respondents are actually implementing this strategy in daily business. Similarly, when it comes to the focus on value, 7 respondents claim that their aim is the absolute focus upon essential customer needs, whereas only 5 companies actually have the digital customer focus rooted in daily business.
Moreover, the survey has found that, although 9 companies claim that digital data is important for them, only 3 actually integrate digital data in everyday business.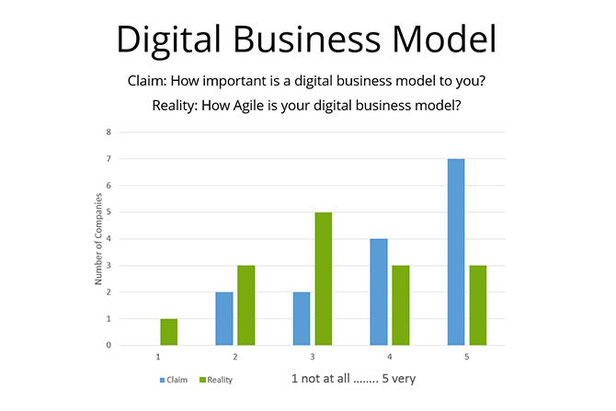 Finally, the survey data has revealed that out of the 7 companies claiming that a digital business model is important for them, only 3 are in truth adopting an Agile business model in their company.

Leave a Reply